Saturday, July 31, 2010
Posted by

Heather
at 3:46 PM
0 awesome people said

Going to the theme park is always fun, it makes all of the adults sick and the kids tired haha! We went to
Del Grosso's
in Pennsylvania.
I didn't get one good picture of Porter, he refused to look at anyone! Oh well, at least I tried.
Posted by

Heather
at 3:39 PM
0 awesome people said

Thursday, July 29, 2010
Aunt Emily brought her horses with her all of the way from Maryland. We arrived at Grandma's house several days before Emily came, and all that Jessie wanted was for Emily to get there! She was so excited to see the horses, especially Baby Girl, the big giant draft horse. I think Baby Girl's head was as big as Jessie.
We got to ride every day, and we all enjoyed them. Curren was on poop patrol, he did a good job keeping it cleaned up… he soon realized 4 horses make a lot of poo!
Posted by

Heather
at 9:21 AM
0 awesome people said

Wednesday, July 28, 2010
Mark tried to pack up our whole entire house full of toys and bring them with us to West Virginia. I managed to talk him out of a lot of stuff, but he did manage to sneak a big bag of climbing gear. He made a Zip Line that ran through his dad's trees and into the yard, the kids LOVED it.
Do you all notice Curren's long luscious blonde locks??? He refuses to let me cut it off, he wants to grow it out "five more inches" He's hilarious! (And I am so not letting him grow it that long) He'll look just like Jessie!
Posted by

Heather
at 11:03 PM
1 awesome people said

First off, I have to ask... have any of you been to Washington D.C.? If you haven't please move it to the top of "Places I must go right now" list. Seriously folks, it's amazing.
We saw the Washington Monument, from there you can see the White House, Capitol Building, and the Lincoln Memorial, and just about everything else, it's pretty cool.
We stopped in two of the many (many, many) Smithsonian museums. The museum of Natural History and the Museum of American History.
Here we are by a big dinosaur bone, it was pretty hugemongous yes?? Jessie, Brigham and Aunt Heather... or Aunt Header or Aunt Heaver, that's how we roll.
Posted by

Heather
at 10:56 PM
0 awesome people said

You are about to be inundated in tons and tons of photos from our month long trip to West Virginia...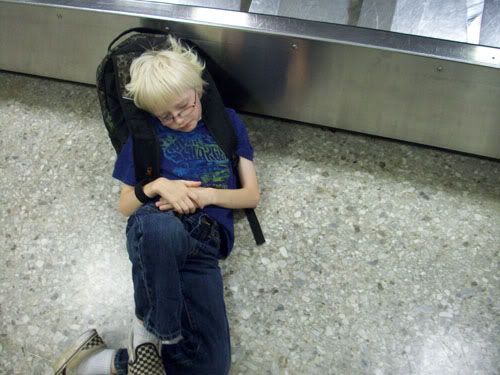 You have been warned...
Enjoy!
Posted by

Heather
at 10:54 PM
0 awesome people said