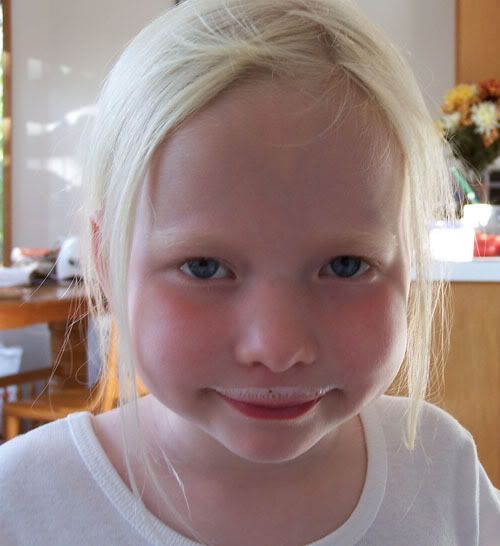 Mmmmm.... banana milk mustache!
Well this weekend was quite interesting. We woke up Saturday morning and went to the skate park with our friends the Jarvis'. Well we get there, and start walking over... Jessie got ahead of us on her bike, and suddenly she has fallen and hurt herself. We had just got there! She rode her bike off of a 2 foot drop, and hadn't clipped her helmet on. We ran over there and she seemed okay, just shaken up. My friend Andrea was feeling Jessie's head for bumps, didn't feel any... and when Jessie turned around I noticed blood. There was a cut in the back of her head about 1/2" across. So, we ran out of there and took her to the urgent care that was really close, how convenient! Anyway, she now has 2 stitches on her head. She seems to be doing okay, it is just sore now. Talk about scaring us though, poor girl. Mark took pictures of her ouchie, but I will be kind and not post them, yuck!
Today Mark went to a church meeting, and then we headed off to church this afternoon. Jessie had to give the talk in Primary, and Curren gave the scripture and prayer. They both did a very good job.
I have been making this quilt since I think March? It is for my cousin Donna in Arizona. I'll be mailing it off to her this week, I hope she likes it :)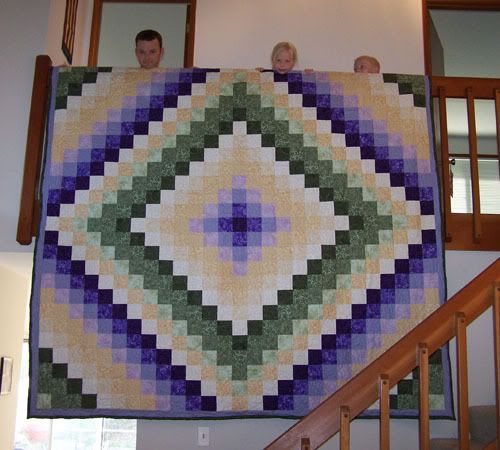 I made enchiladas for dinner tonight, and some brownies. We then took a bunch of pictures for the heck of it :D I hope you all have had a nice weekend, and didn't have any injuries. We figured it was our time to go again, it seems we have to go every six months or so.