I wanted to try out Wordpress, as I already had a Blogger account set up for my craft blog. Well, I didn't like having to juggle both Blogger and Wordpress, it has been a pain and I usually end up updating the craft blog with pictures I am sure you would all want to see of the family anyway. So, I am opening up my family site here on blogger and canceling the Wordpress site. Sorry to pull you guys all around, I'll try not to move soon :)
AnyWHO…
We are all doing pretty well here in Portland, and school has begun for the kids. We are trying to get used to having to do homework every night and lunches ready in the mornings. It's a big adjustment and PAIN in the behind, but we are managing. Last night at the school was Open House. We were able to go and chat with the teachers and re-assess what the heck we are supposed to send home, sign up for and manage every week for the kids. Talk about a lot to do. You know, I can't believe I'm complaining about it because I KNOW in a few years when they have sleepovers, and sports games, and teenaged angst I will really be in a heap of trouble!
Last weekend was super nice. We went on a hike to see Punchbowl Falls. Just thinking about it relaxes me. We drove up I-84 to the Columbia River Gorge, and then exited at Eagle Creek (41), and parked in the lot there. It was a $5 charge to park so in case you go, bring some money. Well, it was an easy 2 mile hike to the falls. However, if you have little kids like me, there are some really steep dropoffs from the trail. I kept picturing them falling and falling to the river below. My over active imagination was not that fun to deal with, but I overcame it eventually after realizing my kids had no intention of getting close to the edge.
When you first get to the waterfalls, you see Lower Punchbowl Falls:
Then you walk a bit further up the riverbank and see Punchbowl Falls:
It was so beautiful, and calm there. Mark and the kids took off their socks and shoes to wade around and they all fell in. Haha! I was smart and knew I would fall in, so I stayed the heck out. It was cold! We lucked out, we had the place to ourselves for awhile too.
Mark being Mr. Fun, got on a big log and floated around towards the falls. He was having fun, but I think his legs were numb for a good 24 hours afterwards.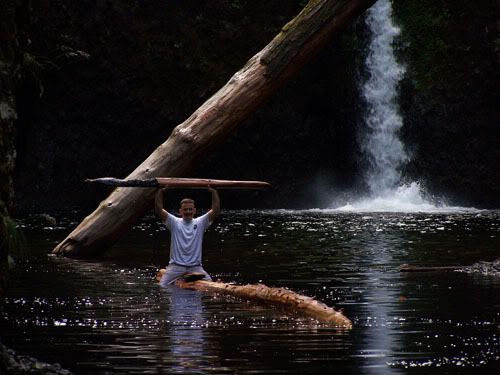 So, I recommend you do this hike, you are in a canyon and of course it being Oregon, it is pretty much the prettiest place you can be :) Plus at only 2 miles one way kids can handle it (I should say I can handle it!)
This weekend we have not yet figured out what we are doing. Mark said he's going skateboarding in the morning with his friend KC Jarvis. They have been able to hook up a few times to go, but usually don't. Me… maybe I'll sleep in.