First off, just want to say Happy Halloween to everybody! What are you all dressing up as tonight?
We had a good weekend, and hosted a Halloween party on Friday night. Costumes were mandatory and everybody was a good sport and came in costume. There are some very creative people!
Here we are, I was a witch, Mark a surgeon, Jessie a fairy and Curren is a Ninja. Mark's costume was put together at work, he got a "cadaver" arm and some of their tools, and wore a face mask. Which was good, because he had a bad cough still, so he didn't germs all over everybody :) Some of the little kids were scared of me with my makeup on, it was funny, they'd start to walk in the house, look at me, then promptly turn around and walk right back out! Maybe I should wear that makeup year round to scare the door to door salesmen away.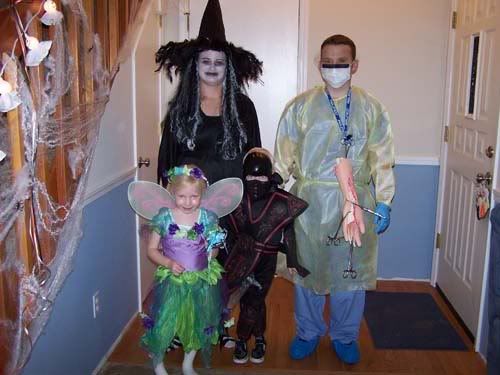 Charlie and Yoshiko had great costumes, Yoshiko made them, I loved it!
Carrie and Chris won our best costume contest, Chris's costume cracked me up, I couldn't stop laughing at his wig and their polyester pants :)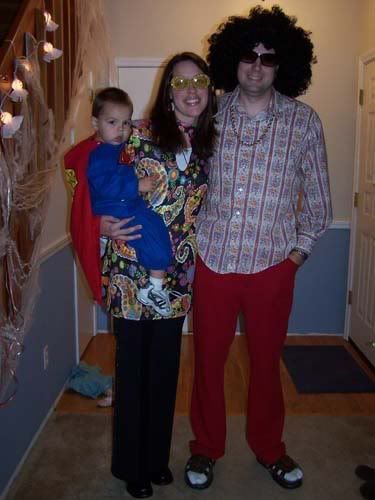 The Manning's helped us out so much with the party, thanks Tara! They were a part of the winning World Series team :) Go Red Sox!
The Allen's had put this together the night before, they are a rubik's cube!
And many more people came.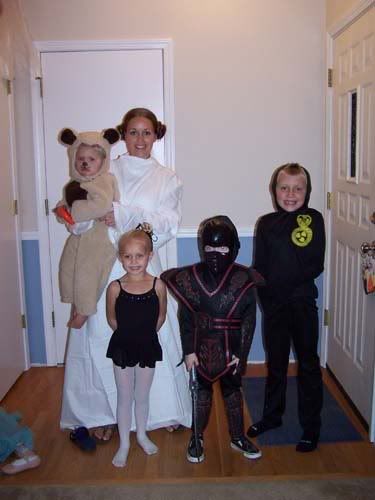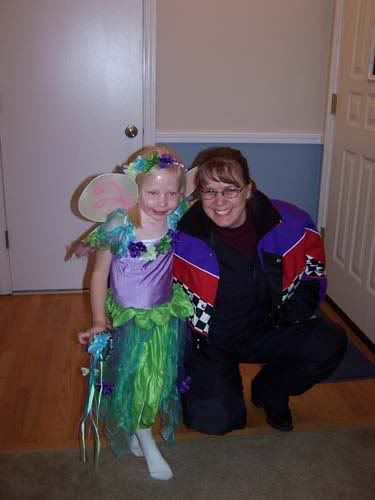 We had a really fun evening, a lot of people couldn't make it because they were sick, or their kids were. I felt so bad, sorry you all could not come. Mark was one of them, but he didn't have a choice to not be there LOL!
Tonight we are planning on going Trick or Treating. It'll be chilly, but at least it's not really windy or raining… like the past several Halloween nights. I am sure the kids will make out with a lot of loot!
If you want to see more pictures click on "Fall 2007 Photos" on the right.